25 years of passion, navigation and exploration
CMPV is the story of a family of sailors passionate about the riches of the marine world and the Corsican coast. Remarkable fauna and flora, wild creeks and creeks, stories and legends… Eva, Alain, Jean-Thomas and Cédric guarantee you memorable sea trips, unusual encounters along the western coast, from the Gulf of Valinco, in Propriano .
Committed to sustainable and eco-responsible tourism, for the respect of natural spaces, the family maritime company has been boarding passengers since 1996 for activities at sea against a background of awareness and transmission of their knowledge on biodiversity and Corsican heritage.
Want to relax and escape?
"Discover an activity that is both fun and cultural, in a unique natural setting"
With our walks and sea excursions departing from Propriano, we invite you to discover the Sanguinaires Islands, off Ajaccio, the sites of Valinco, Olmeto plage, Porto-Pollo or Campomoro, the wild coasts, the nature reserve of Scandola, the sites of Piana, Girolata and many other marvels of the Corsican coasts.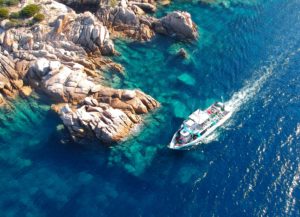 Visit of the marine reserve – Calanques Natura2000 – Bird islands – History of the Genoese towers with Campomoro la
Learn more
Rent a boat with skipper from propriano to discover the Corsican coasts
An aperitif with friends, a romantic dinner or a private family discovery, treat yourself to a unique and exclusive moment on a prestige star or an underwater vision boat with a professional skipper who knows the region perfectly. Rent your boat with skipper in Propriano with the family company CMPV.